Ever noticed an ad for a product you just talked about appear while you were browsing the internet?
Once ads for the same thing follow you around the web, you start to wonder what caused it. And you wonder if tech companies know more about you than you're comfortable with.
Often the easiest way to boost your online privacy is simply to switch your browser. Today there are privacy-focused browsers that don't require tweaks or extensions to block trackers.
Mainstream browsers are a mixed bag. Some have adapted well to people's growing concerns about being tracked online. Understandably it's challenging for big companies to make changes that might hurt their bottom line, even if it's in the short term. Apple's Safari and Mozilla Firefox are two examples of well-known browsers that have managed to put the privacy needs of their users first.
Now that we've covered the primer, let's dive in! Here are the best browsers available today for people that value online privacy.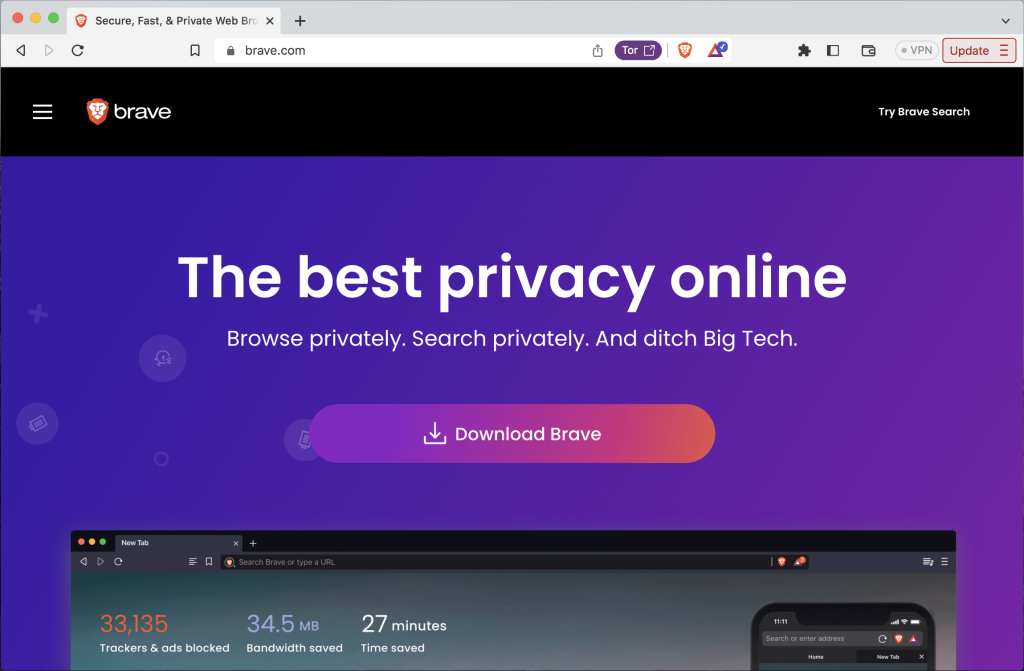 Brave
If Brave isn't one of the first browsers that come to mind for the best online privacy features it should be.
Mozilla Firefox has been around for quite a while and most have heard of it or used it. Well, guess what? There's a connection here. Brendan Eich is the CEO of Brave, and he was also one of the co-founders of Mozilla.
By default, Brave blocks display ads and trackers. The concept behind it is unique as its purpose isn't to eliminate all ads. Rather, it displays its own native ads that look like browser notifications and it rewards its users with Basic Attention Token. And yes, BAT is a token built on Ethereum with real value. Suddenly, ads aren't a nuisance because internet users are compensated for their attention.
If you rarely want to see ads or don't want to see ads at all regardless of the rewards, there are settings for all of that.
Brave is a great everyday browser for people that value privacy, but you can't use it for everything. Some websites are set up to require certain data and important functions might refuse to work with Brave. In this situation, it's best to launch a mainstream browser like Chrome or Safari for the sake of convenience.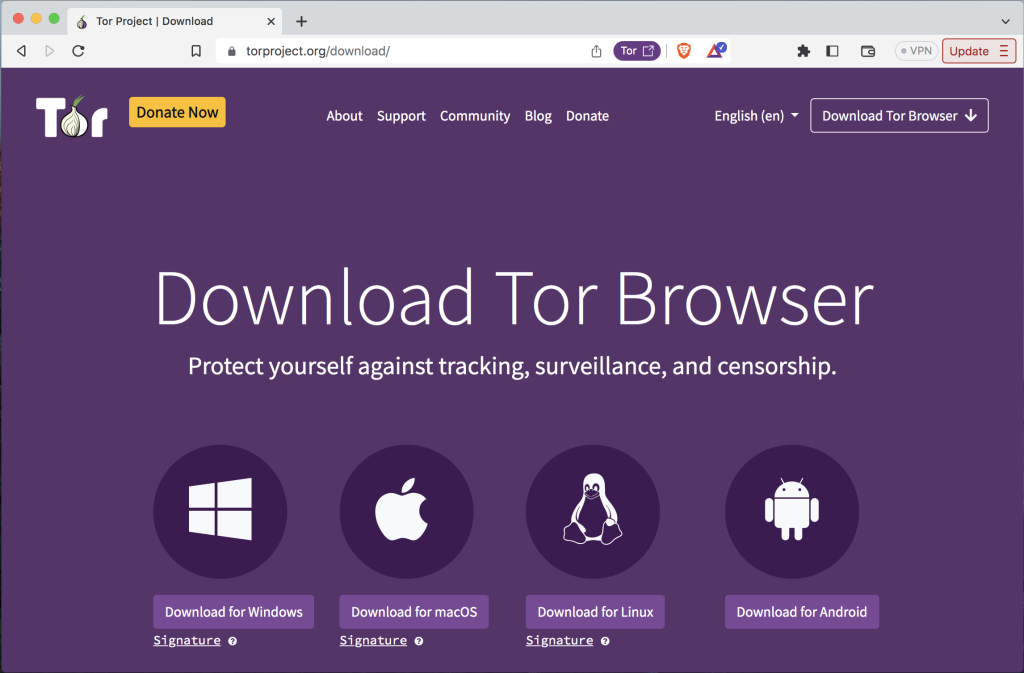 Tor Browser
Many online privacy aficionados haven't tried Tor Browser yet, but they're probably used Tor at some point in their journey. Tor, which is short for "The Onion Router," is free software that enhances privacy and hides your online activity from prying eyes.
Tor Browser takes the unique privacy technology established in Tor and builds it into a web browser. It sends web data through a multistep encrypted route that includes at least three nodes.
The downside of Tor has always been speed. It's the price you pay for its thorough approach to anonymous browsing. Thus, Tor Browser is a good choice for tasks with privacy of utmost concern, but it's not going to replace your go-to browser.
VPNs also encrypt your data like Tor. So, if you're looking for a good balance between anonymity and browsing speed a VPN is the best option. Check out LetMeBy's reviews of the top 3 VPNs.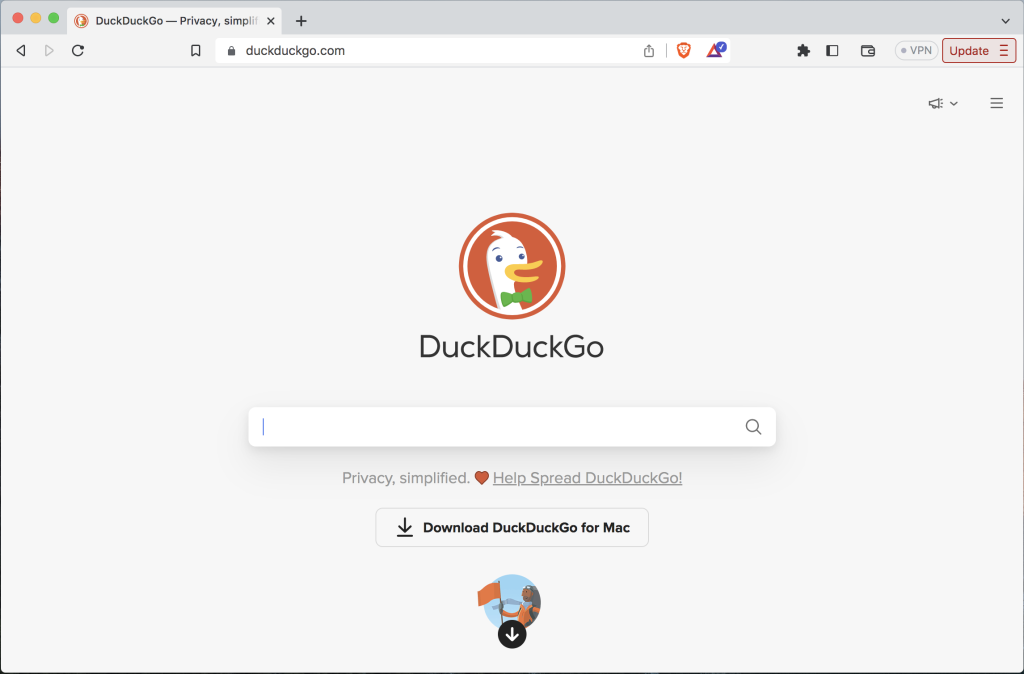 DuckDuckGo Browser
DuckDuckGo is a privacy-focused search engine that doesn't collect or share private information about its users. Other search engines have tried to find their niche and have faded over the years, but DuckDuckGo is stronger than ever because it promises a benefit people actually care about.
Its latest offering is its web browser. Its looks and most of its basic functions will look familiar to users of Chrome and Edge. And it's based on the same idea as the DuckDuckGo search engine. The browser blocks trackers and ads that follow you around the web.
People that visit YouTube frequently will appreciate its unique video feature called Duck Player. It opens YouTube videos in a view free from distractions such as recommendations.
It removes ad targeting and tracking, but it doesn't remove YouTube ads altogether. Rather, the ads won't be based on your activity and browsing history.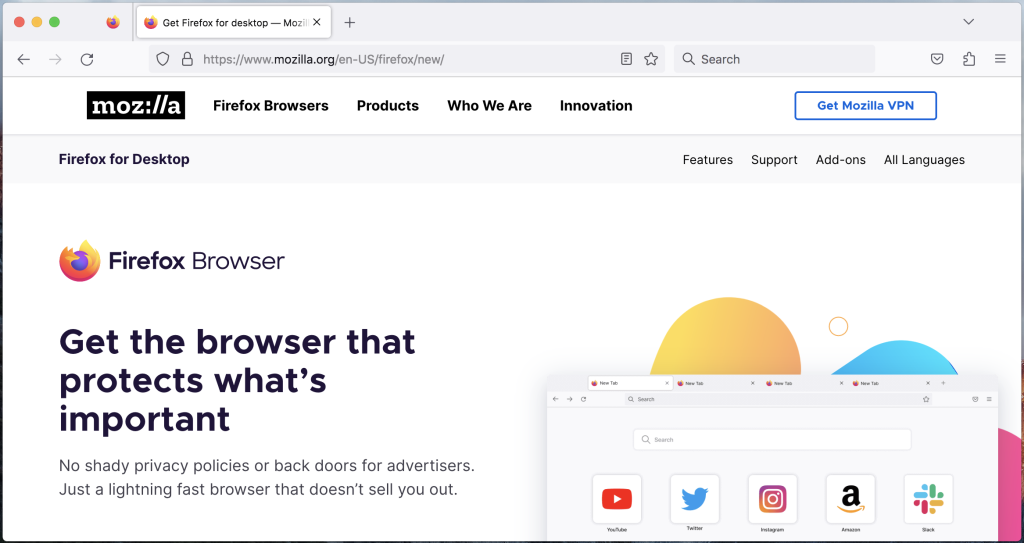 Firefox
Mozilla is a not-for-profit Foundation that aims to put people before profit and fight for an internet that's accessible and open to everyone. Although that may sound idealistic Mozilla has proven over the years that it can make software just as good as big corporations.
These days nearly everyone uses Chrome or Safari. Back in 2009, Firefox was at its peak with over 32% browser market share. Many stuck with Firefox for years but once they switched to Chrome, they never looked back.
We can speculate about all the reasons Firefox lost popularity over the years. One thing is certain. Google preinstalls Chrome on its Chromebooks. Apple preinstalls Safari on its devices. And Microsoft preinstalls Edge in its operating system. People always needed to make the conscious decision to download Firefox, and with so many good options most stopped bothering.
It's time to give Firefox another look.
Firefox has privacy features mainstream browsers don't have such as automatic DNS over HTTPS and cookie blocking.
Blocking everything that tracks you doesn't always lead to a good user experience. Firefox's Enhanced Tracking Protection allows you to block or allow certain types of cookies and content.
Network settings are integrated right into Firefox, which allows you to use a proxy with it without affecting other apps. Other browsers such as Chrome and Safari approach this differently. To use a proxy or VPN you have to apply it system-wide.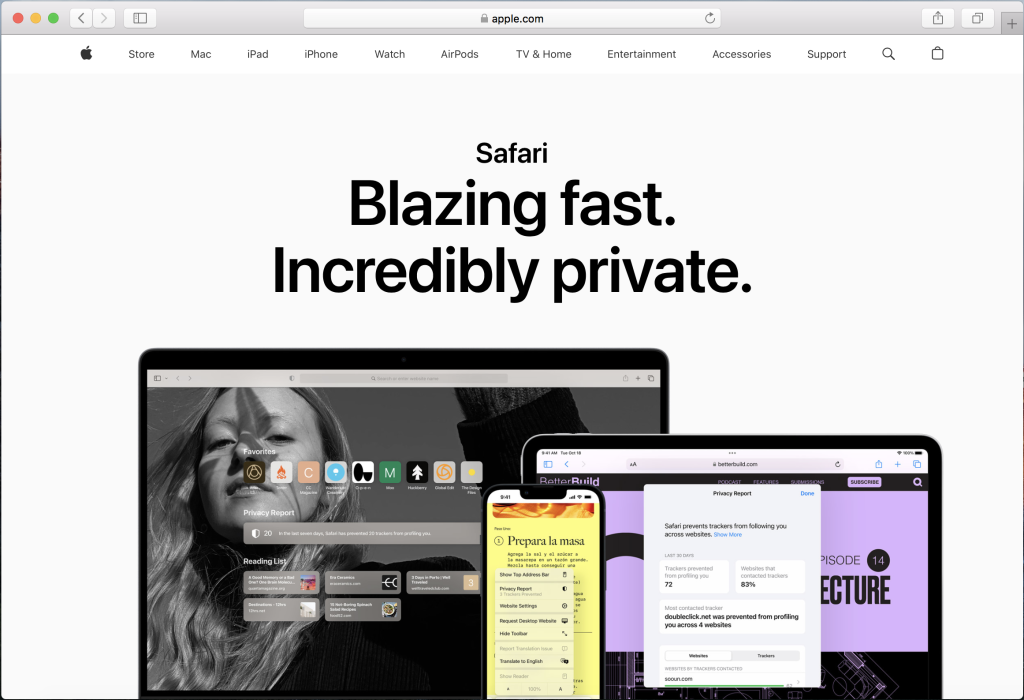 Safari
Apple disrupted the tech world when it first released App Tracking Transparency in iOS. For the first time ever, Apple users could easily opt out of being tracked. And given the choice, most people did.
Although it's less talked about, you can also prevent cross-site tracking in Safari on Mac OS. You merely go to Safari's privacy settings, select "Prevent cross-site tracking" and you're done.
Most popular browsers have a private browsing mode. Safari has an edge over many because it uses DuckDuckGo by default. With it enabled, beyond your browser not remembering the sites you visited, the search engine itself won't collect data based on your searches.
Another handy feature in Safari that encourages good habits is its password generator. It suggests strong passwords, saving you time and confirming that your passwords are keeping up with current standards.
Safari's Intelligent Tracking Prevention limits the amount of your data that's sent to Apple and third parties. This means that long-term cookies are only stored on your device for sites you use regularly.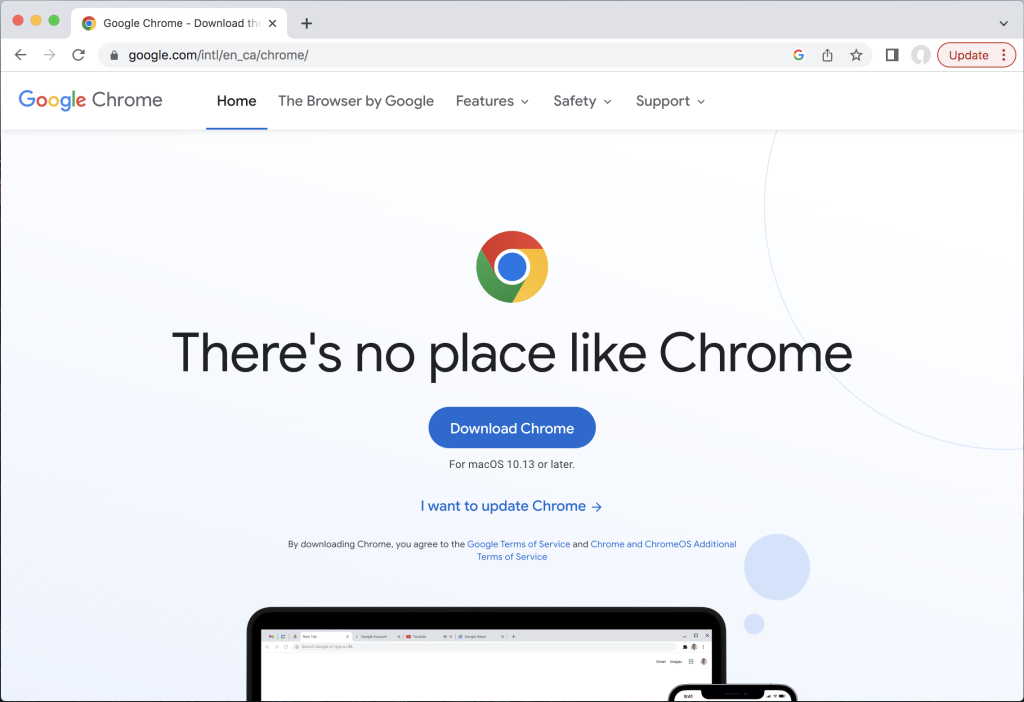 Chrome with Privacy Extensions
If you prefer to deploy online privacy features a la carte, don't mind tweaking settings, and enjoy Google's ecosystem, this could be the right option for you.
Google Chrome is by far the most widely used browser and that means it's one of the best when it comes to customizing its features with extensions. Simply put, Chrome isn't a privacy-first browser out of the box, but you can make it into one.
Want to block trackers? Add an extension such as Privacy Badger or Ghostery. Don't want to see ads? Install Adblock Plus or uBlock Origin.
There's a slight catch. Extensions can break, lose their support, or lose their effectiveness as technology progresses.
One of the biggest pluses is that you can experiment and find the extensions you like the most. You're not married to built-in features that may not offer the approach to privacy you want.
Why Companies Want Your Data
Data is a huge industry, and it's a growing one. The global big data market was estimated to be worth $162.6 billion in 2021. It's forecasted to reach $273.4 billion by 2026.
The concept is simple. You more businesses know about consumers' likes, dislikes, interests, careers, hobbies, and a multitude of other things, the more they can sell.
Many people don't think marketing works on them. But the evidence says otherwise. Clicks on targeted ads can be as much as 670% higher. Additionally, 80% of users actually reported to prefer tailored ads. People notice what interests them, and data makes it possible to serve people both the content and ads most likely to be relevant to their interests.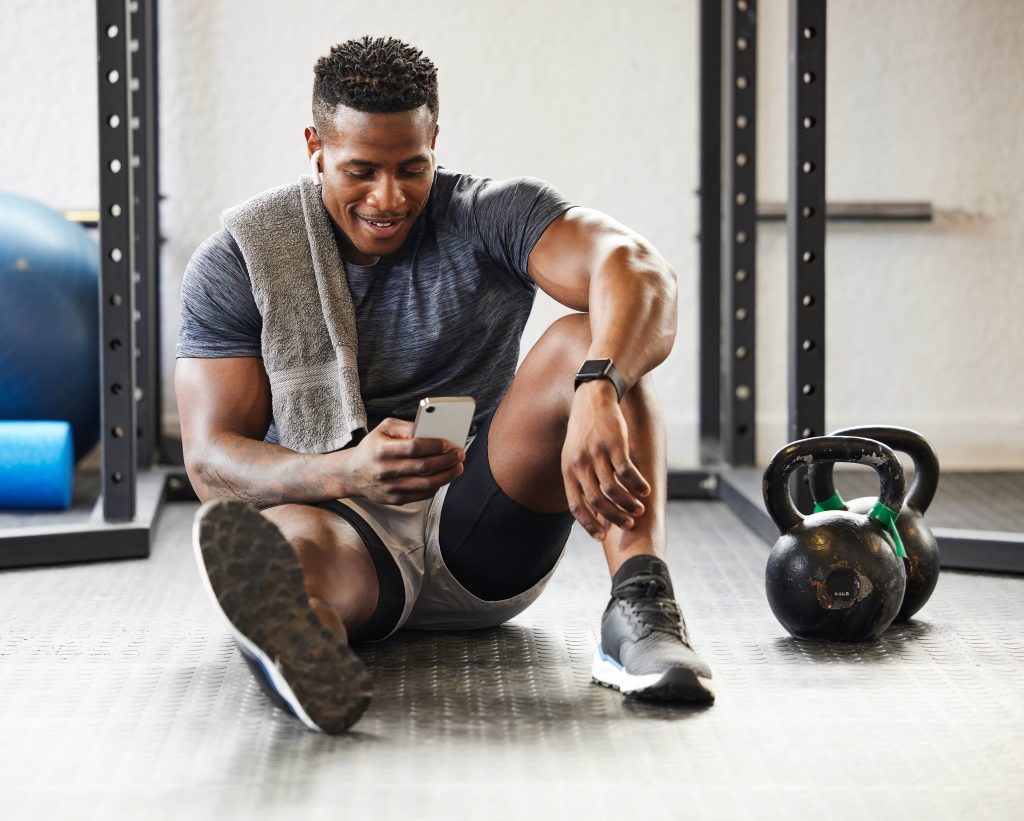 The Tug of War Between the Wants of Advertisers and of Users
Some of the biggest tech companies are in a challenging spot. If users aren't happy their business is in jeopardy. And if advertisers aren't happy it's in trouble too.
Apple's move to allow users to easily control if they wanted to see targeted ads or not was part of a big shift in the industry.
It's become standard practice to collect data about users and also to give them tools to manage their data on different platforms. In other words, if you want better privacy you typically have to drill down into the settings to make it happen.
Conclusion
As more become aware of the importance of online privacy, more are taking another look at the web browser they use every day.
For too long popular browsers have been synonymous with good. And while the most used browsers are excellent, they're usually not the top choices in terms of privacy.
Any browser's privacy can be leveled up significantly by enabling a VPN. If you take the time to choose a browser with robust privacy features as well those ads that follow people around will be far behind you.