Once the domain of networking specialists in a business setting, routers with VPN capabilities built-in are now accessible to everyone.
There are other options for enabling a VPN at the router level. However none are as elegant for the average home user or small business.
You can buy a router from FlashRouters with business-class DD-WRT firmware installed for you or install it yourself. However going this direction isn't recommended unless you are comfortable with the added complexity it will add to running a home network.
For most people it makes more sense to choose a hardware solution with simple, intuitive firmware that is VPN-ready out of the box.
VPN-Friendly Brands
Many of the top router brands are lagging behind by failing to add VPN features to their products aimed at consumers. Asus and Synology are the exception. Both are consistently releasing feature-rich routers that allow you to easily connect to a VPN service.
This guide focuses on the brands that offer VPN features across their product line. This empowers you to choose a specific router based on your needs. And to make things easier a "top pick" was chosen from both Asus and Synology camps.
Router You Need vs. One You Want
Accessing the Internet through a VPN uses up more of the router's resources than a regular connection. Consequently, pay special attention to the CPU specs. A dual core processor running at 800 MHz or greater is recommended. This is to ensure the router CPU doesn't bottleneck the performance of web-browsing, torrents, and downloads.
You need a capable router if you plan to use a VPN, but if taken too far you'll overpay for a router with horsepower you'll never tap into. If you live in a very large house, have a big family and/or ISP offering a bleeding-edge connection speed, going high-end may be worth it. However, you don't need one of the beefiest models just to connect to a VPN.
Asus Wi-Fi Routers
With competitive prices, a wide selection of routers, and deep VPN capabilities across the board, Asus is a good place to start your search.
AsusWRT is the stock firmware preinstalled on Asus routers. It supports OpenVPN, L2TP, and PPTP encryption protocols.
Although not as cutting-edge on the software side as Synology, Asus knows hardware. They've been a major player in computer hardware since 1989.
Asus RT-AC68U (AC1900) (800 MHz – dual core) [Amazon]
Asus RT-AC3200 (1.0 GHz – dual core) [Amazon]
Asus RT-AC3100 (1.4 GHz – dual core) [Amazon]
Asus RT-AC5300 (1.4 GHz – dual core) [Amazon]
Asus RT-AC86U (AC2900) (1.8 GHz – dual core) [Amazon]
Asus GT-AC5300 (1.8 GHz – quad core with AES-NI) [Amazon]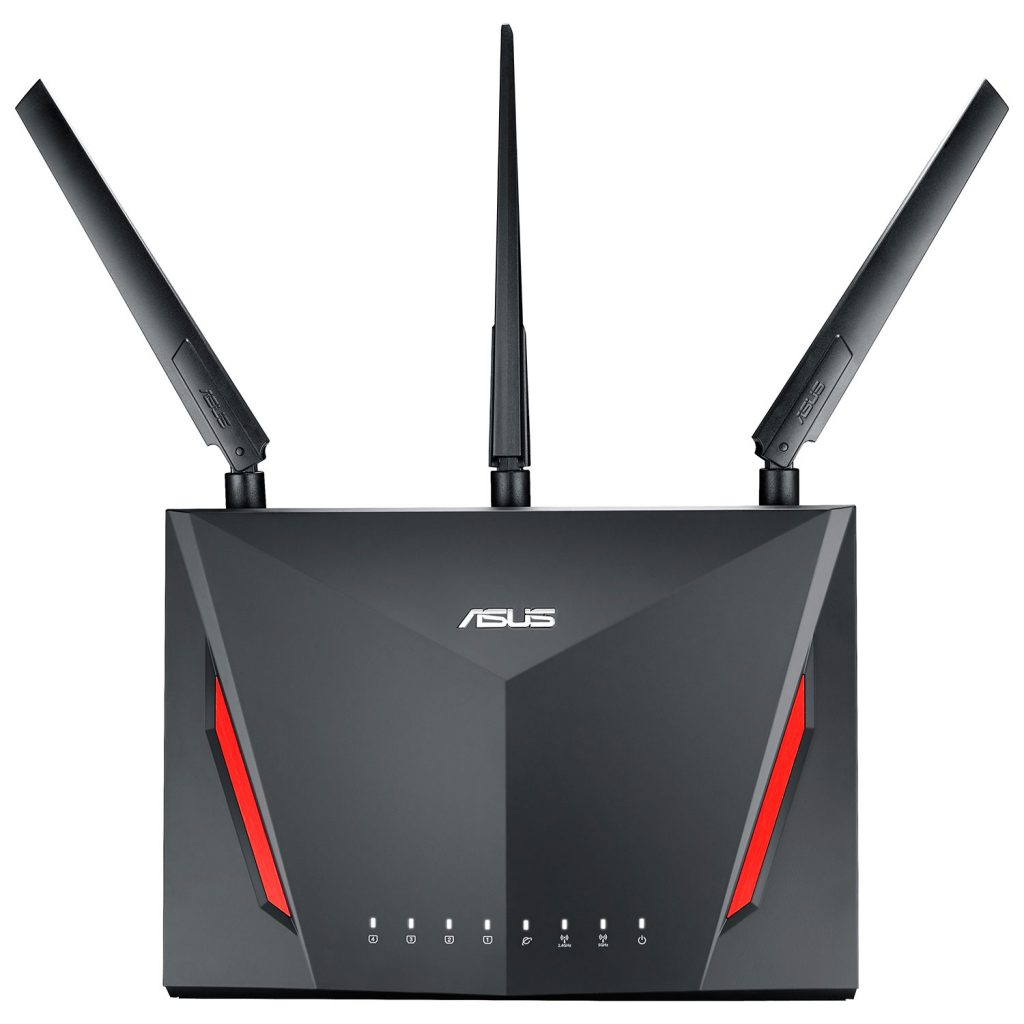 Top Pick: Asus RT-AC86U
Despite its playful exterior meant to appeal to gamers, this is a serious router. It's powerful enough to cover very large homes and brings cutting-edge tech to the masses.
Asus boasts blistering data transfer speeds up to 2900 Mbps. The Wi-Fi signal is transmitted dual-band (2.4 + 5 GHz) via the latest 802.11ac MU-MIMO technology. That's an impressive feat considering the reasonable price point.
Inside there's a 1.8 GHz dual core processor, 512 MB of RAM, plus 256 MB of flash storage.
Synology Wi-Fi Routers
Synology is primarily known for their excellent NAS solutions. Nevertheless the company managed to impress tech enthusiasts with their first router, the RT1900AC, and they've built upon that foundation by adding the powerhouse RT2600AC and then mesh-friendly MR2200AC.
The easy-to-navigate Synology Control Panel allows you to painlessly setup and connect to a VPN service. There is comprehensive protocol support, which includes OpenVPN, PPTP and L2TP/IPSec.
This interface is like a sleek mini-OS dedicated to your router. And it's a fresh yet familiar approach.
Synology RT1900AC (1.0 GHz – dual core) [Amazon]
Synology MR2200AC (717 MHz – quad core) [Amazon]
Synology RT2600AC (1.7 GHz – dual core) [Amazon]
Top Pick: Synology RT2600AC
The RT2600AC is Synology's flagship. It improves on their first router the RT1900AC in every way. A formidable unit and with four antennas, the gargantuan appearance is matched by good performance.
MU-MIMO and the latest 802.11ac Wave 2 standard is supported, giving the router a top speed of 800Mbps and 1733Mbps on the 2.4GHz and 5GHz radios respectively.
It's powered by a dual core 1.7 GHz CPU and has 512 MB of DDR3 memory.
Wrapping It Up
Home users are ready for routers with VPN features, but open-source firmware solutions like DD-WRT may not be ready for them. That's because technical know-how is still needed to gain the rich feature set.
Asus and Synology have managed to balance ease-of-use with advanced features. So while many are focused on router hardware specs, the importance of superior firmware can't be ignored.