Fast and reliable internet is a must for travelers. It's needed for tasks such as booking hotel rooms, flights, and tours. And it just makes life better when you need directions or restaurant reviews. Plus, most like to stay in contact with loved ones back home.
Wi-Fi hotspots are everywhere today, from hotels to airports to cozy cafes. It's wonderfully convenient but it also tends to give travelers a false sense of security. Public Wi-Fi can be slow, spotty, and lacking in security.
That's where portable Wi-Fi hotspots come in. Rather than dealing with Wi-Fi frustrations travelers can now grab the bull by the horns.
A travel router is a compact device that can easily be packed in a suitcase. And depending on its features it solves common Wi-Fi issues people encounter on a trip.
Travel routers have three main uses:
Extend the range of an existing Wi-Fi network
Create a new Wi-Fi hotspot by connecting to a mobile network
Make a gateway for multiple devices to connect to a network when fewer connections are permitted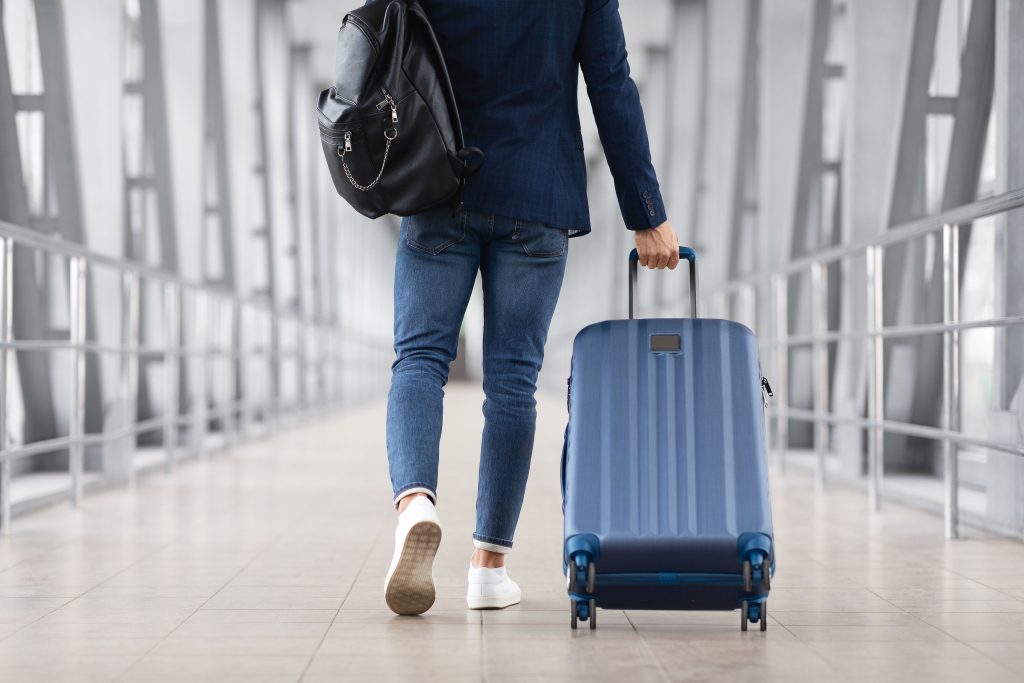 Extend the Range of an Existing Wi-Fi Network
Distance from a router is one of the most important factors determining the speed and reliability of an internet connection. Thus, when staying at a hotel it's luck of the draw. You could find yourself very close or very far away from its Wi-Fi hotspot.
Travel routers that are range extenders amplify the signal of the main router. It can buy you a couple of bars of signal strength on all your devices.
Create a New Wi-Fi Hotspot
Not all public hotspots are secure. In fact, if the network connection isn't encrypted it can expose you to threats such as theft of private data. Although it's tempting to tap on a social media app and post the photos you just took at the beach it isn't always worth the risk.
Creating a hotspot with a travel router gives you a secure access point to connect your devices to. It also grants you full control of your own network rather than dealing with the weaknesses of public Wi-Fi.
Make a Gateway for Multiple Devices to Connect to a Network
It's common for hotels to limit the number of devices that can connect to their Wi-Fi with one access code.
For the gadget-obsessed or people that need to get things done, it's worth the effort to consolidate all devices into one connection to the network. By connecting devices to a travel router rather than directly, you can essentially use as many devices as you want.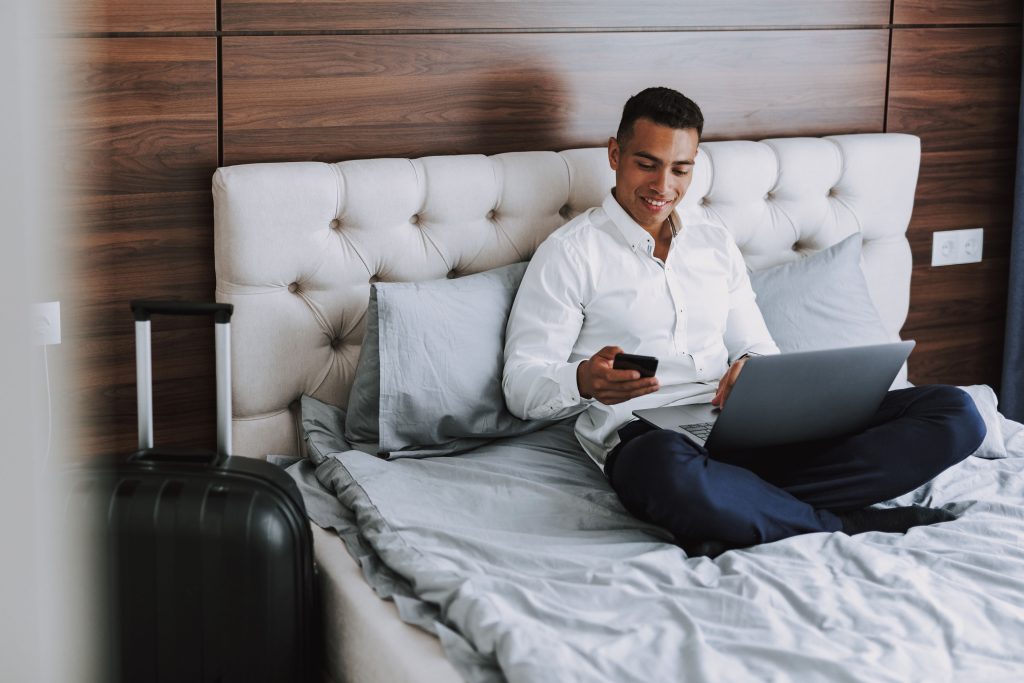 How to Use a VPN with a Travel Router
There are two big players in travel routers: GL.iNet and TP-Link. Both are easy to use with a VPN. You'll want to make sure your travel router and VPN service both support the same VPN protocols.
To get the details on VPN services, see LetMeBy's guide to the top 3 VPNs here.
GL.iNet Routers
GL.iNet's product line supports VPN services that are compatible with OpenVPN and Wireguard out of the box. OpenVPN and Wireguard are VPN protocols used by VPN service providers. The admin panel included with GL.iNet routers allows you to connect to a VPN efficiently.
TP-Link Routers
Although TP-Link doesn't emphasize it on its product pages there are robust VPN configuration options under the hood of its routers. TP-Link travel routers support OpenVPN, PPTP, and L2TP/IPSec protocols. TP-Link doesn't require that you download VPN software as you can enter the login details provided by your VPN service provider directly in the router admin panel.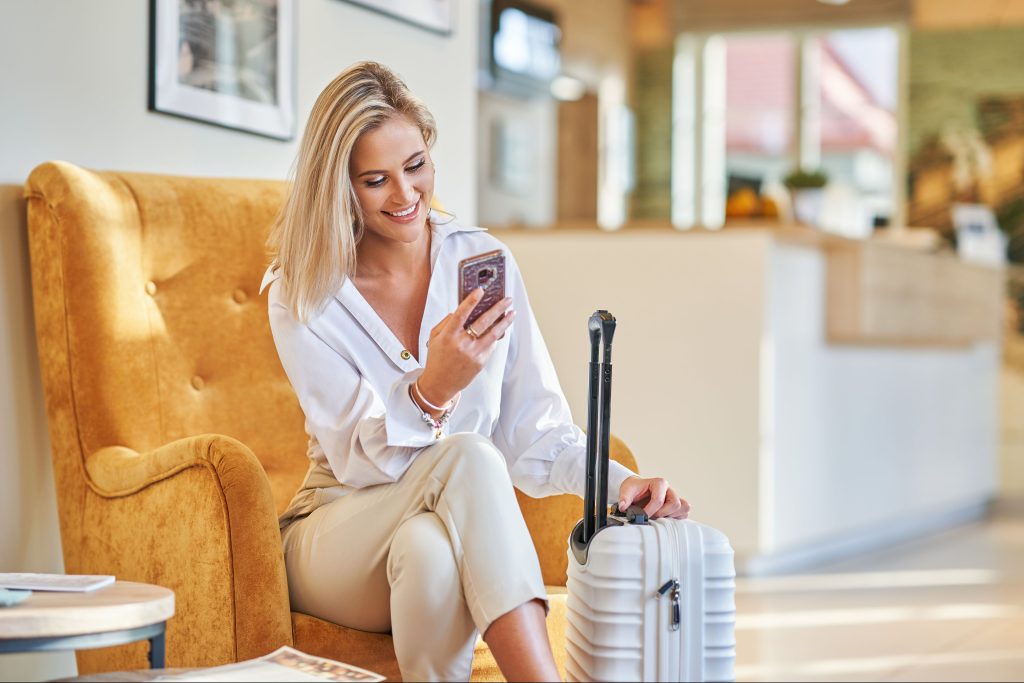 The Best Travel Routers
Most travel routers are super compact, inexpensive, and offer a lot of features to boot. All the routers listed below allow you to either create a new access point or extend the range of an existing Wi-Fi network.
If you want the fastest speeds available, that's when the prices move up. High-end offerings from GL.iNet such as the GL-MT3000 feature both 2.4 GHz and 5 GHz Wi-Fi connectivity.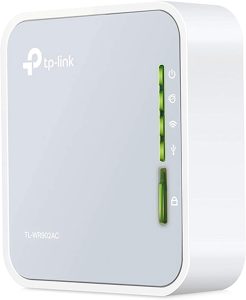 TP-Link AC750 Wireless Portable Nano Travel Router (TL-WR902AC) [Amazon]
If you want the best value this is the one. And it's probably the top pick for most people. The TP-Link AC750 is significantly faster than many entry-level models out there yet only a bit higher in price.
It has a data transfer rate of 750 Mb per second as its name implies. That might not be quite as fast as you're used to at home or at the office but for such a small router it's well above average.

GL.iNet GL-MT3000 (Beryl AX) Pocket-Sized Wi-Fi 6 Wireless Travel Gigabit Router [Amazon]
If you want the fastest connection possible, you'll want to look at this model from GL.iNet first. It's the only travel router in this roundup that uses the 802.11ax standard. By connecting to its 5GHz band it can reach speeds of a theoretical maximum of 2402 Mb per second.
The only downside is it's a good bump up in price from your typical travel router.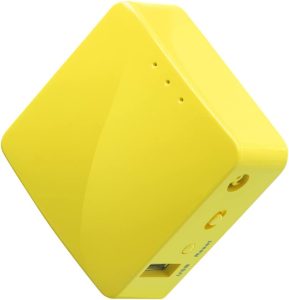 GL.iNet GL-MT300N-V2 (Mango) Portable Mini Travel Wireless Pocket VPN Router [Amazon]
Those who love tropical locations may want to order the mango. All jokes aside this model from GL.iNet has antennas inside the unit rather than outside. That can be an advantage because that's two fewer things to break or get detached and lost. Thus, this is sort of the sport edition of GL.iNet's travel router lineup.
Its data transfer speed is 300 Mbps (2.4 GHz) which is standard for its price point.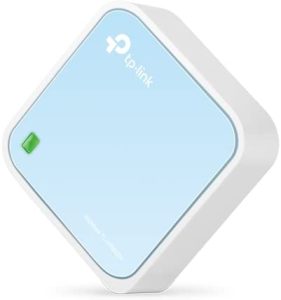 TP-Link N300 Wireless Portable Nano Travel Router (TL-WR802N) [Amazon]
This option won't wow you in terms of speed or features. Its modest price and the fact it's made by a reputable company are two of its biggest draws.
TP-Link isn't just a big name in travel routers. It's a big name in routers period. It shows when it comes to their software which is clean and easy to set up. The N300 uses advanced encryption so it provides an inexpensive way to create a secure network.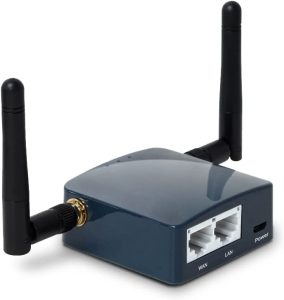 GL.iNet GL-AR300M16-Ext Portable Mini Travel Wireless Pocket Router [Amazon]
Want an extremely compact unit with antennas? This puppy has detachable antennas which makes it easy to pack yet effective at transmitting Wi-Fi signals.
Its CPU runs at 650 MHz which is a touch faster than the comparable GL.iNet GL-MT300N-V2 (Mango). Also, it has EAP support while other models in this range don't. EAP is an authentication framework, and it's a nice security feature to have. Its data transfer speed is 300 Mbps (2.4 GHz) as you'd expect for such a small, lightweight unit.
Conclusion
Travel routers have become a must for digital nomads, business people, and filmmakers, just to name a few.
The last thing you want when you need to get things done is a spotty Wi-Fi connection. You may not always need it but packing a travel router gives you insurance so that you can find solutions to internet issues as they arise.