Peer-to-peer file sharing users are becoming increasingly concerned about exposing their IP publicly. As you're aware, uTorrent shows connected IPs under the "Peers" tab.

More concerning is the ability of film studios for example to plant tracking technology embedded right into the video. This allows them to issue copyright infringement notices through ISPs. I'm not encouraging piracy, merely noting that your IP can be harvested and possibly used against you when you share or download torrents.
The idea behind this tutorial is to replace your real IP with the IP associated with a VPN service.
Step 1
For testing purposes I used JustFreeVPN. Please note that free VPNs are excruciatingly slow especially when downloading huge files via torrent.
I strongly recommend that you sign up with one of the reputable, fast VPN providers below to avoid frustration. Plans are typically $10/month or less.
Recommended services:
Step 2
From the top menu go to Options > Preferences (Windows) or uTorrent > Preferences (Mac).
Step 3
A new window will pop up. Click on "Connection" on the left (Windows) or on the "Network" icon (Mac).
Step 4
Select the proxy server type from the dropdown button as specified by your VPN provider. Check the box next to "Authentication" and enter the username and password you were given.
Windows
There are a number of advanced options here under "Proxy Server" and "Proxy Privacy." For maximum protection check all the boxes as shown in the screenshot.
Click the "Apply" button.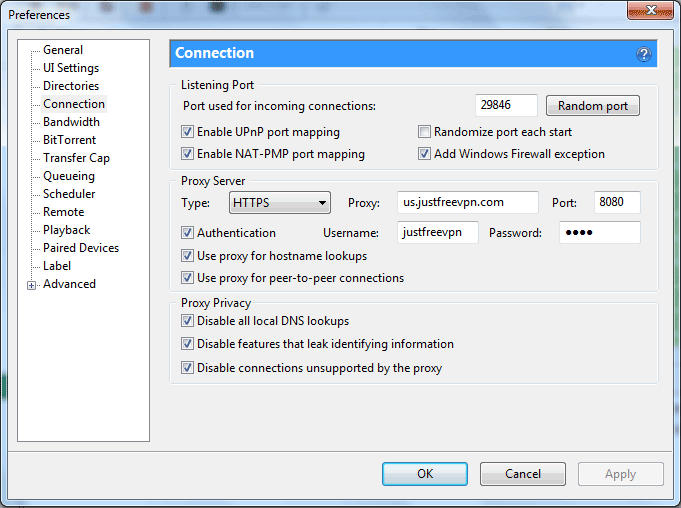 Mac OS X
Check the boxes under your login info as shown in the screenshot for maximum protection.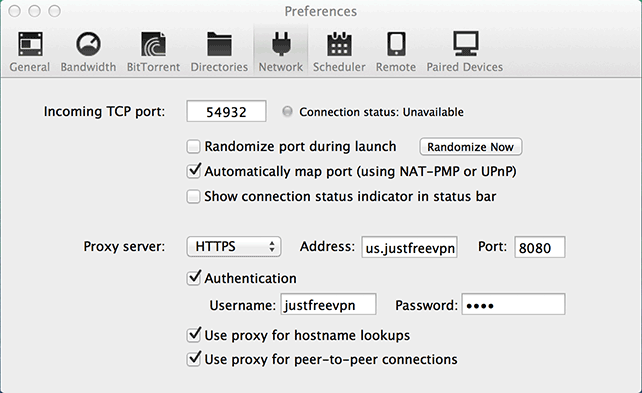 All Done
Congrats! Your real IP will no longer be displayed in uTorrrent.